FireStorm 27 High Speed Aluminum Fireboat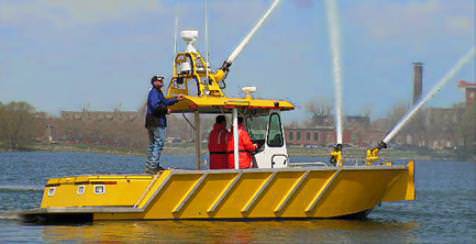 FireStorm 27


Occoquan Woodbridge Lorton Volunteer FD.
Max speed
42 MPH
L.O.A.
27'3"
B.O.A.
10'8"
Draft
1'10"
NFPA
Class C*
Pumps
1000 GPM Hale
Flow
1260 GPM from main, 1600 GPM flow from two monitors
Monitors
FireFox Remote Akron Conquest
Engines
Twin Yanmar Diesels 315 HP each
Jets
Hamilton 322
MetalCraft custom-designs and builds every boat to customer specifications.
The FireStorm high-speed aluminum fireboat represents a new generation in fireboat technology. It is a culmination of years of study and research into high volume pumping systems and their effects on a small boat's stability, controllability, dynamic loading and righting moments.
Fire Systems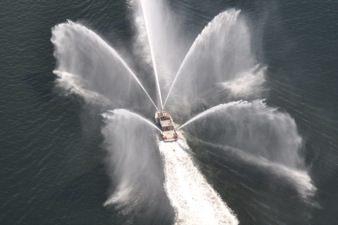 High pump numbers are due to a unique MetalCraft Marine proprietary designed sea chest.
This sea chest has an intake as large as a firefighter himself. It can be inspected and cleaned while underway and provides a positive head to the pump. It provides a filtered water source to the pump while self draining with the boat on plane.
The monitor location is central for further range and is close to the center of buoyancy. This permits the helmsman to pivot the boat around a high thrust load at full stream while running a low engine rpm, not unlike a towboat.
Operators are amazed at the boat's control under full streaming at any angle. The boat's head never blows off its course.
Simplicity is the key to the FireStorm fire system. Its fire truck-based designs promote easy maintenance and reparability.
All FireStorm fireboats pack a huge punch for their size, and their shallow draft gets them into the smallest of marinas and very close to shore.
* Some exceptions to the NFPA 1925 apply, based on individual specifications.
Hull Shape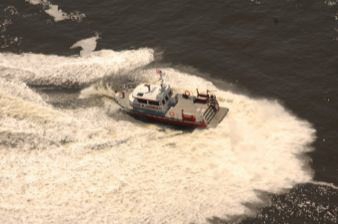 The Firestorm operates on the Kingston hull design platform. This proprietary design features a delta-pad center planing flat. This provides additional lift resulting a lower trim angle through the pre-planing transition zone, "the hump".
Fireboats are about 25% heavier than a conventional patrol boat because of firefighting equipment and rescue gear. This can cause the planning hull surface area to be marginal, or even too low in the water, to plane at all. A heavy boat with a small water plane causes exaggerated high bow planning angles, and heavier loads on engines reducing their longevity.
MetalCraft Marine's high-efficiency hulls offset the FireStorm's high gear-loads, providing additional speed and better fuel economy. MetalCraft Marine FireStorm fireboats give you speed and performance without compromising the equipment list.
Rescue Systems
FireStorm models are NFPA Class 'C' fireboats but can meet NFPA Class 'B' pumping requirements and pumps more than 25% in excess of its pump rating. Items like the wrap around recovery deck, track system safety harness (patent pending), internal foam tanks and forward push knees are only some of the design features specific to the FireStorm rescue system.
While arriving on-scene faster than most large vessels, FireStorms offers a wide range of specialized rescue features for first or only response.
These systems were designed with the input and insight from the O.W.L. Fire Department Boat Team of Fire Fighters. MetalCraft Marine would like to thank these men for their contributions and their affect on the future of fireboat design.
Rescue Options
Heated & A/C patient care area with primary patient care bench & secondary care berth
Hinged critical care berth
Dedicated EMS equipment storage with power taps for battery chargers
Piped oxygen supply to patient berths
Forward loading capability for stokes through forward hinged window
Aid bag, stokes and back board storage
500lb. manual or electric davit
Aft deck steering station for crew and patient safety
* Some exceptions to the NFPA 1925 apply, based on individual specifications.