High Speed Interceptor 10M Patrol Boat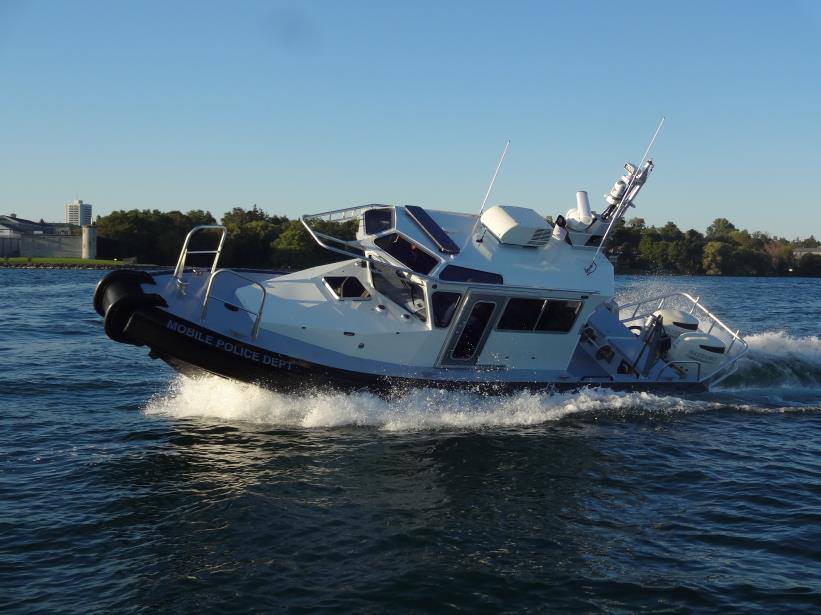 Mobile AL 34' Interceptor in hard-over maneuver during trials, note overhead side spotter windows designed to be at driver's eye level, and full window side doors, for exceptional visibility. More photos on Flickr.
The Interceptor 10M is the first stealth-designed high-speed small craft for Navies, Coast Guards and Police agencies. It is maneuverable, versatile, rugged and reliable, and suited to a wide range of applications like search and rescue, special operations, and patrol.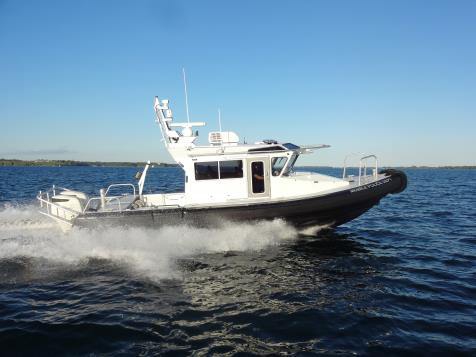 Interceptor 10M




Standard Configuration

Max speed
45-55 Knots
Cruise Speed
38 Knots
L.O.A.
34'
B.O.A.
9' 10"
Draft
20"
Air Draft Mast Up
13' 6"
Air Draft Mast Down
9' 5" with AC unit
Weight
11,500Lbs
Capacity
12 people
Fuel Cap.
250 US Gallons
Engines
2 X 250 hp to 3 X 300 hp
Cabin height
6'10"
Cuddy height
5'11"
Cabin Options
T-Top or partial/full wheelhouse
Ballistic Protection
Portable Level III
Gun Positions
1-6
More photos on Flickr
The Offshore Cabin design is designed for operation in Sea states 4-5. Wave heights of 13-18 feet. Structure for these severe seas is calculated as per ISO 12215, Category B for these wave impacts at speed. The vessel's windows and frames and cabin support pillars are an instrumental part of these calculations. This means that claims of pillarless glass are baseless.
Other design features to provide safety for crew in these conditions include adjustable suspension seats with seatbelts, a sloped decked in foredeck for green water shedding, an elongated angular cuddy design, designed as a wave break to break up green water on deck.
There is a long water tight fore deck hatch that opens on a gas shock to 90 degrees and a small ladder for easy access to the foredeck from inside the cabin. There is a handrail on the inside face of the hatch. The foredeck is expansive and the vessel has wide side decks for moving aft. All foredeck rails are customized to your needs. There are various non-skid options that we tailor to your specific needs for maintenance. The overhanging cabin rail has virtually zero negative effect on visibility from the helm.
The overhead side spotter windows are designed to be at the driver's eye level when the boat is in a hard over banked turn. The full window side doors give complete visibility to any boat you are coming alongside without opening the doors. There are various options to ballistic protection, most agencies choose portable panels so are only carried for specific missions.
The Mobile AL Police chose the Offshore Cabin design because rough water is what they get 20 miles out in the Gulf.