FireStorm 30 High Speed Aluminum Fireboat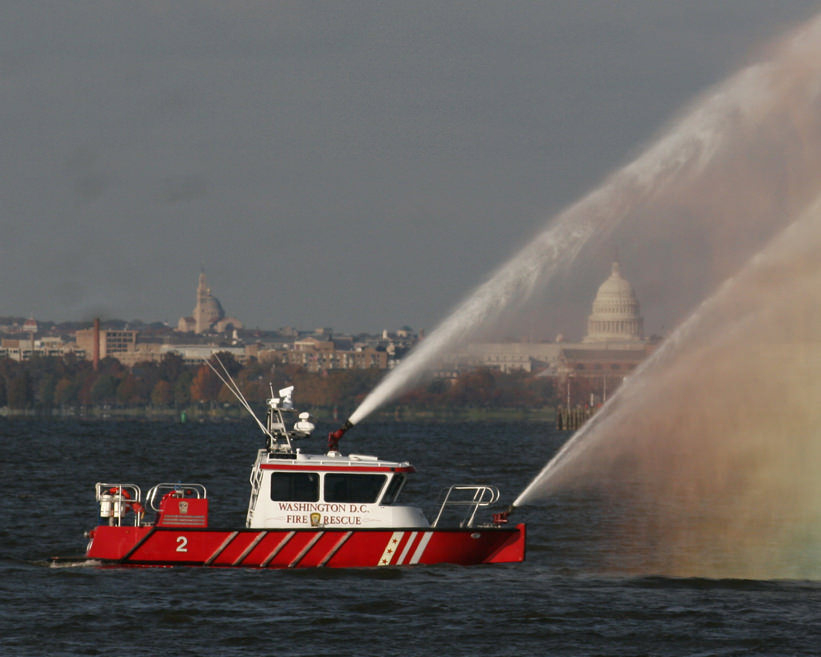 The FireStorm 30 with outboard engines is a new generation of fireboat. It provides more speed, maneuverability & pumping capacity than any other boat in its class.
It is the highest pumping 30' fireboat in North America. It is fitted with a Darley pump that produced flow meter results of 1800 GPM with a single 1250 GPM Outboard powered N.F.P.A. pump.
Fire Systems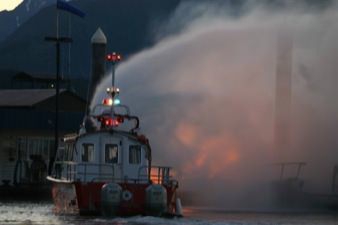 High pump numbers are due to a unique MetalCraft Marine proprietary designed sea chest.
This sea chest has an intake as large as a firefighter himself. It can be inspected and cleaned while underway and provides a positive head to the pump. It provides a filtered water source to the pump while self draining with the boat on plane.
The monitor location is central for further range and is close to the center of buoyancy. This permits the helmsman to pivot the boat around a high thrust load at full stream while running a low engine rpm, not unlike a towboat.
Operators are amazed at the boat's control under full streaming at any angle. The boat's head never blows off its course.
Simplicity is the key to the FireStorm fire system. Its fire truck-based designs promote easy maintenance and reparability.
All FireStorm fireboats pack a huge punch for their size, and their shallow draft gets them into the smallest of marinas and very close to shore.
* Some exceptions to the NFPA 1925 apply, based on individual specifications.
Standard Configuration

Max speed
36 kt fully loaded
L.O.A.
36'4"
B.O.A.
10'8"
Draft
24"
Discharges
2 monitors; 2 discharges; 1 LDH
Propulsion
Twin outboards
Pump Engine
8 cylinder gas
More photos on Flickr
FireStorm 30 with Outboards
Speed:
37 kts. 43 mph
L.O.A.
33' 5"
B.O.A.
10' 8"
Draft
18"
Pump
1250 GPM Darley, total flow was 1800 gpm
Monitors
Elkhart 8294 remote
Engine
Bombardier 225, E-Tech Outboards, 200-250 HP
Pump Engine
Mercruzer 5.0L
with Block Heater
Fire Fighting Systems • Single Darley fire pump producing 1800gallons.min. • Roof mounted, remote operated 2000 GPM monitor Elkhart 8294 • LDH 5" Storz connection for supply to land units • 2x3" or 21/2" capped discharges • All fire controls and gauges at dedicated console
EMS Support • Heated patient care area with primary patient care berth • Dedicated EMS equipment storage with hinged and sliding access panels • SCBA storage panel
Electrical System • Shorepower 1x30 amp • D/C (12V) Breakers - 16 • A/C (110V) Breakers - 3 • D/C Outlets - 2 • A/C Outlets - 1 • Corrosion Meter • Cabin, Scene & Spot lights • NAV & RIM lights • Battery Charger
Electronics • VHF, Radar integrated w/GPS • GPS, chartplotter w/depth • Compass • Loudhailer/Fog horn • Siren • Emergency lights • Many available options - FLIR etc.
Standards • Meets NFPA 1925 pumping for Class 'C' (500 GPM) • Meets NFPA Flotation requirements • Meets OSHA Db rating • USCG CFR 46 • USCG interior flame retardant rating • American Boat & Yacht Council • American Bureau of Shipping welding standards
Other Features • Chart Table • Lazaretto storage locker • Suspension helm seat • Non skid 24' side decks • Safety railings with harness brackets • Anchor Locker with collision bulkhead • Hinged Dive Door • 5 watertight compartments • Rubber sound matting • 3" 'D' rubber fendering • Fully finished pilot house interior • High security engine hatch locks • High security battery switches & start sequence • Flat or treadplate aluminum decking • 5 gallon & 50 gallon foam canister storage • Tinted side windows, clear windshields • Raked forward windshields to reduce glare and improve water clearing • 2 speed wipers w/washers • 40,000 BTU cabin heater w/defrost • Hinged mast w/radar arch • Watertight, integral to roof, electrical boxes w/terminal strip • Floatable dive/roof ladder • Push knees with collision zone • Ice clearing roof design • Access to all piping and valves • All piping concealed